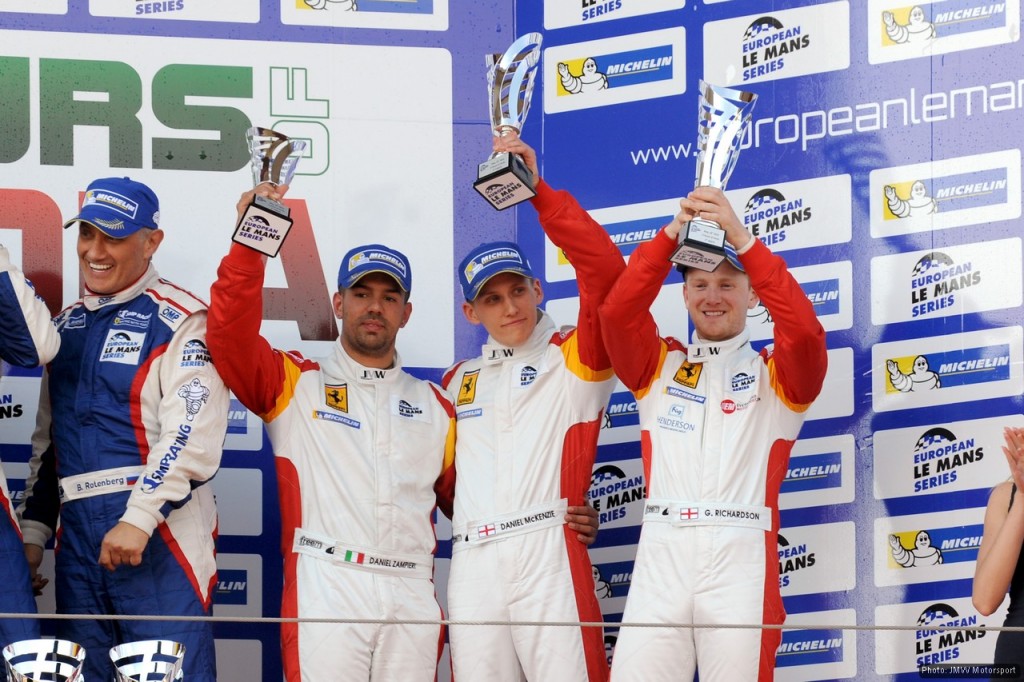 Daniel McKenzie's first visit to historic Imola also earned him his first sports car podium as his JMW Motorsport squad brought their Ferrari F458 Italia home third in class and ninth overall.
After two rounds of the European Le Mans Series McKenzie and his team mates Daniel Zampieri and George Richardson lie third in the LMGTE team championship and are tied for fourth in the drivers' standings.
The weekend always looked likely to be memorable for McKenzie, given the combination of location and car: "I was very excited to drive a Ferrari around Imola," he said. "There are very few opportunities in life to drive a car at the home of its heritage.
"But it was my first time at Imola – it's always a tricky one, going to a new circuit that you've never driven on. I went in a simulator beforehand to get a few insights, and was able to cycle around the track beforehand."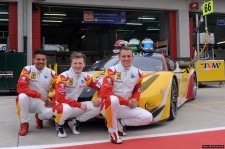 The practice sessions proved useful, with the team putting in solid times, but multiple yellow flags caused problems for a driver looking for an uninterrupted opportunity to learn the circuit.
McKenzie said: "Imola is a little different because of its deep gravel run-offs. They certainly slow you down if you make a mistake, but once you're in one you're not coming out.
"There were a lot of yellow flags because the odds are that if you're in the gravel you're going to need to be towed out. So practice was very disrupted, which was a bit tricky if you have never driven there beforehand and are feeling your way into it."
The team's gold driver, Zampieri, qualified the car but was unlucky to have his attempts disrupted when the session was red-flagged. McKenzie said: "The plan was to go out and do three flying laps to set a time, then wait a bit while other people put times on the board. Unfortunately during his flying lap a red flag came out, which wasn't ideal.
"You only get one set of tyres for qualifying, and you also have to race on them. Losing that lap meant his tyres had gone through a heat cycle for no result, and he was never going to be able to get the best out of them after that. He ended up in eighth position – it wasn't bad, but there had been potential for more."
As the silver driver, it was McKenzie's job to take the start and cover half the race distance before handing over to bronze driver Richardson: "The rules are that the bronze driver has a minimum number of laps they must do, while the gold or platinum driver is capped at a maximum. What that usually means is that the silver driver spends the most time out on track – which is handy, because that's me and I love driving.
"Our plan was for me to double-stint, which was bold on tyres that had done qualifying. The start was clean – with a field of professional drivers everyone is very polite and there's no argy-bargy or issues with anyone being over-aggressive.
"I had a good first lap, overtaking a couple of cars, but then spent about 15 minutes stuck behind another. Once I did get past it was a case of setting consistent times, managing the tyres and driving smoothly.
"I came in for a splash of fuel, but apart from that the two hours just flew by and before I knew it I was battling for the class lead. I'd kept pushing throughout, driving cleanly and catching the leader. He pitted a couple of laps before I did, and that put me out front."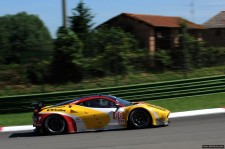 The JMW Ferrari lost the LMGTE lead when McKenzie pitted to end his stint, but Richardson remained competitive throughout his time on track – which included a long safety car period – and when Zampieri emerged for the race to the flag he was second in class.
He lost the place to a rival Ferrari that had taken fresh tyres at its final stop, giving it the speed to charge through for the class win, but took a comfortable third a full lap ahead of the next finisher. For McKenzie, it was a success that owed nothing to good fortune.
He said: "Perhaps if events had gone our way a bit more we could have finished higher, but this podium was deserved. We finished third, only 26 seconds behind the leader after four hours of racing, and it was a well-deserved result – we didn't luck into it.
"The team showed a lot of grit and determination, and it was a fantastic feeling at the end. The team and drivers are working together well, and we're aiming for wins, regular podiums, and to be fighting for the championship. We're now third, only six points from second. It will be a bit of work to catch the leader, but it's a possible target.
"For me, I'm happy with it. It was my first podium in a GT car, and in only my sixth race. I'm building up experience and next time I'm on the podium my aim is to be one step to the right, up on top."
The European Le Mans Series now takes a break – despite its name, the 24 Hours of Le Mans is not part of its season – and Daniel will be back in his Ferrari F458 Italia when the championship resumes at the Red Bull Ring on July 19-20.
He said: "We have a longish break now, seven weeks, or so. The time does go fairly quickly though, particularly towards the end. It's Austria next – another circuit I haven't driven on before but, if Imola is anything to go by, turning up somewhere I haven't driven before may prove advantageous!"
Photo gallery