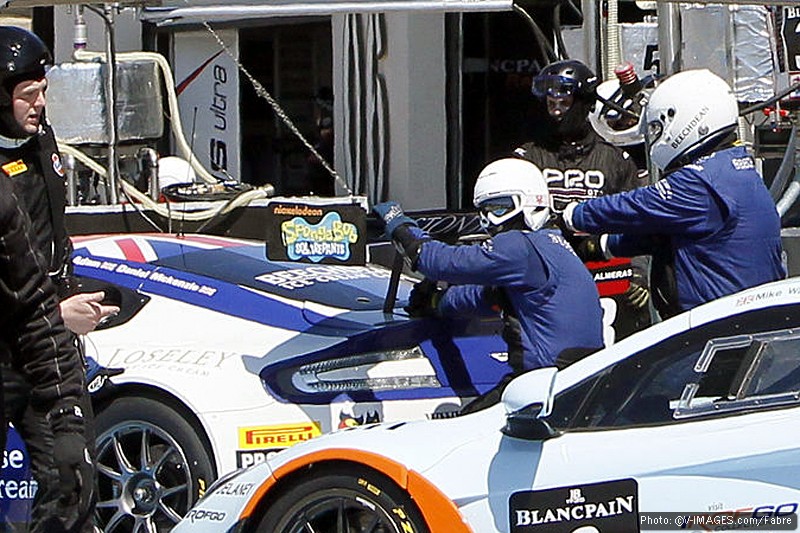 The Beechdean boys hard at work at Paul Ricard
A mechanical problem with the #99 Beechdean Aston Martin Vantage brought an early end to the day for Daniel and his team-mates in the third round of the Blancpain Endurance Series at Paul Ricard.

Traffic during qualifying saw Daniel start from 18th in the pro-am class, and the race began under the safety car following a fatal accident in a support event earlier in the weekend.
For much of his stint Daniel was making ground on the cars ahead, but with about 10 minutes left before he was due to hand the car over it suffered a race-ending fault.
He said: "I had traffic on my qualifying lap, which is just the way things go sometimes. Jonny [Adam] and I are both driving hard, but with a few car issues we struggled to find outright pace. My theoretical time was within two tenths of what Jonny did.
"I think starting the race under the safety car was the sensible thing to do, considering what had happened – otherwise there would have been 60+ cars bundling into the first corner together.
"For me, my stint was initially about finding the right place to overtake and after that I was on my way. I was one of the quickest cars and chasing down the pack. The problem happened about 10 minutes before the end of my stint.
"I went into the quickest corner of the circuit and the power steering died. I managed to keep it out of the barrier but the car gradually came to a halt while I was radioing in, trying to figure out what was going on.
"The water pump pulley had decided to come away, which basically pulled the belt off, which killed all the auxiliaries.
"Unfortunately that was the end of the race. It's proving a difficult year – we have had a couple of difficult races, and here we had another mechanical issue."