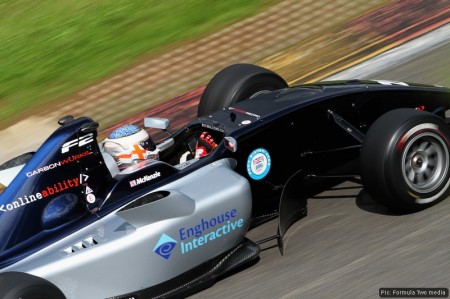 Daniel returned home from a tough weekend at Spa with a maiden Formula Two podium as his reward for battling through set-up problems and atrocious weather conditions.

He finished second in the opening race, comfortably outpacing the rest of the field even though a problem with his car's balance prevented a serious attack at victory.
"It felt pretty good to be on the podium – I've been working hard for this," he said.
"I've been gradually increasing my overall performance, mentally and physically, and my understanding of how the car works and how to get the best out of it.
"I knew it was only a matter of time, and hopefully getting the first podium will make the next ones easier to obtain."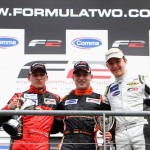 The result was built on a confident qualifying performance, which saw Daniel claim provisional pole early on, then save a set of fresh tyres by sitting out the rest of the session as his rivals attempted to challenge his time.
Only one was able to beat it, so Daniel was left starting from the front row with a strategic advantage – but, as he discovered in the race, also a significant set-up problem with his car that prevented him making the most of it.
He said: "Qualifying was a pretty good effort, it was close to a very good lap. I really should have been a tenth and a half, perhaps two tenths, quicker and that would have put me on pole, but I was happy to settle for the front row.
"I got a pretty good start and managed to get alongside in the first corner, but thought better of it as I didn't fancy getting pushed off.
"I tried to push after that, but found the car had a pretty bad wheel imbalance, which made it hard to pick out braking points and made it much likelier that the wheels would lock up."
With one podium under his belt, Daniel had high hopes for the second race. However, heavy rain led to it being called off after just three laps because of the undriveable conditions.
Several cars came to grief either before or immediately after the race was red-flagged – with Daniel among them, having suddenly found himself aquaplaning on a straight.
He said: "I was basically a passenger. When the red flag came out there were people flying off in all directions or in the pits. I thought 'if they don't stop this, there's going to be a crash' and unfortunately it was me."
His thoughts are now turning to the next F2 race weekend – on the familiar territory of a Brands Hatch circuit that holds happy memories for him.
He said: "The last time I was there, in F3, I managed to put it on pole and have the race win. I love the circuit – it's crazy, but fantastic. I'm looking forward to taking a faster car there, and I'll be looking for my first Formula Two win."
Photo gallery
Click any thumbnail for large version.
#gallery-8 {
margin: auto;
}
#gallery-8 .gallery-item {
float: left;
margin-top: 10px;
text-align: center;
width: 33%;
}
#gallery-8 img {
border: 2px solid #cfcfcf;
}
#gallery-8 .gallery-caption {
margin-left: 0;
}
/* see gallery_shortcode() in wp-includes/media.php */