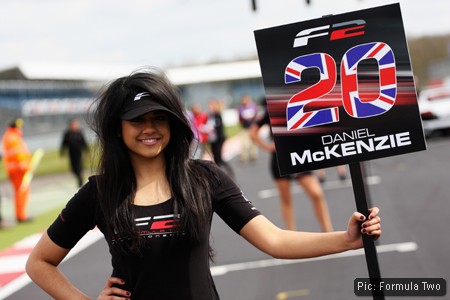 Daniel has welcomed a positive start to the racing season after he competed in the opening rounds of the 2012 Formula 2 championship at Silverstone this weekend.
He tackled the challenge of coming to grips with his new car in just one pre-race test day by finishing fifth in Saturday's Race One, making up two qualifying places as he did so, and fourth in Sunday's Race Two.
Daniel's first-ever outing in F2 was accompanied by rain and frigid temperatures but nevertheless he managed to start well and get himself into a promising position.
He said: "I started seventh and managed to get myself up to fifth in the first five or ten laps, gradually picking people off. After that it was a chasing game, catching up to the people at the front.
"It wasn't until the last lap that I was really battling for it – if I'd had another lap it might have been fourth place."
In Sunday's race Daniel qualified fourth but dropped to fifth after being pushed wide while making an overtaking move.
"I fought for the next five laps to get past and into fourth and then it was just a push to catch up the time deficit to the top three.
"It wasn't until three quarters of the way through the race that I managed to catch up with the guys up front, by which time the tyres were a bit tired, and to get that extra place wasn't possible."
As well as tyre wear, he was also facing serious pressure from fellow series debutant Mathéo Tuscher, who he held off to take fourth spot. "I just kept pushing for that podium place, but didn't quite get there."
Daniel came away from the race weekend feeling confident about his upcoming season: "I'd only been in the car a handful of times before the first race while the other people in front of me had been in the car anything from one to two years.
"I had to learn a lot and was chucked in at the deep end, and so was happy with the performance. I'd wanted a podium, but knocking on the door wasn't a bad start to the year."
Photo gallery
Click any thumbnail for large version.