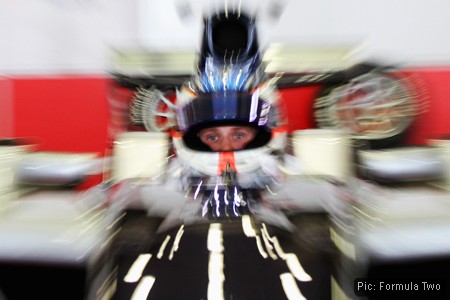 Hard work and determination were at the forefront for Daniel as he returned to Portugal and the Algarve circuit where he previously earned the British F3 National Championship.
This visit to Portimao did not provide such happy memories, but a positive first qualifying session did see him place fifth on the grid for Saturday's Race One despite using old tyres.
Sadly, tyres proved a problem in the race and he was only able to salvage 13th place, leaving him "pretty disappointed".
He said: "At the start of the race I got wheel spin and dropped down a few places. Soon the tyres were fried and that was pretty much the end of the race.
"But I had good pace in qualifying, which showed good potential for the future. And I learned to treat the tyres slightly more carefully – Portimao is a very abrasive circuit and pushing hard on them all race was not possible."
In Sunday's Race Two qualifying the cars had been on the track for only a handful of laps before a hailstorm led to a red flag.
Daniel said: "I went out for qualifying on a greasy track and the first challenge was finding myself a little bit of space. While I was still searching for a space, others were putting in laps.
"That proved to be the quickest time for everybody as the heavens opened and it hailed. That lap turned out to be the only one because of the red flag.
"You've got to take the positives out of the situation – where I positioned myself was not where I should be, but that kept me pushing on to the race to make the best of the situation I had."
He made a good start to the race, fighting a duel to maintain his position, and then managed to gain places: "I chased down the pack and the rest of the race was about overtaking.
"I went with a strategic wing set-up that was slightly deficient on the fast corners but was fast down the straight and gave me the chance to overtake, considering the boost system wasn't working. It was overtaking the old-fashioned way."
He clocked up a sixth-place finish to round off a weekend he said had been far from ideal, adding: "It was a weekend where I had to come back from not having the ideal scenario.
"I had to climb back from a bad situation and I made it work by determination and by hard work with my engineer.
"I'm looking forward to taking that forward to the next race weekend and getting a maiden podium and a win."
Photo gallery
Click any thumbnail for large version.