Daniel spent 2012 racing in the Formula Two championship, scoring two podiums and a string of top 10 results on the way to a ninth-place finish. But his quick pace was not always rewarded with the results it deserved, and in the wet at Spa he suffered a crash that left his car damaged for most of the rest of the season. In this interview with the official Formula Two website – conducted before it was announced the series would not return in 2013 – he reveals his highs and lows for the year.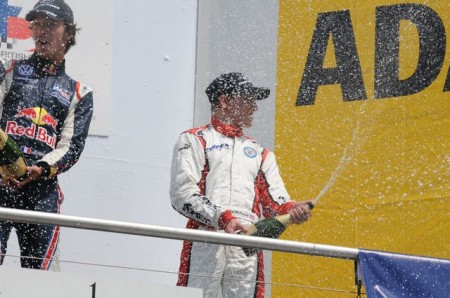 Daniel, a top 10 championship finish for you and some strong podiums to go with it, how have you found your first year in F2?
My first season in F2 was mixed with some very decent pace and respectable finishes. I did have some bad luck with various factors out of my hands and made the odd mistake myself, but this is all part of racing and I will learn from these experiences. The circuit choice in F2 was great and it was nice to drive on proper international circuits on a regular basis. Even though the end championship result wasn't quite what I hoped for, I did enjoy myself a lot and have to say many thanks to my sponsors and father for getting me on the grid in 2012.
How did you find it learning the F2 car and how did it differ from the FR3.5 series car you were used to?
The F2 car is a little different to the World Series car I drove in the previous year. The main difference was the engine with the F2 running a turbo. This was one hurdle to leap over and the others were just down to a difference in set-up and downforce levels. Even though the F2 car has less power in comparison, I still managed to out qualify myself at several tracks when compared to my World Series results, and good enough to put myself in the top 10 on a World Series grid!
You had to wait until Spa to get your first podium – was it frustrating that it didn't come sooner and why do you think that was?
My first podium didn't come until Spa but prior to this I was knocking on the door with regular top five finishes. It was only a matter of time until everything was hooked up and I grabbed that first podium, although I still believe I should have won that race! As you can see from my qualifying and practice times, I did put myself in the top three at various times but things didn't fall into place and I guess this was my downfall.
Any highlights from the 2012 season? The first race at Paul Ricard is one that stands out…
Yeah that was a good race where I fought my way back from sixth after a poor start to get third. I had some very good pace there and again we didn't manage to maximise fully from this but still I put in a great comeback. My other highlights are managing to put myself on the front row in qualifying by only doing two flying laps at Spa – it took everyone else two sets of new tyres to catch up. I did the same again at the Nurburgring with only one run and ended up third in qualifying.
And finally, any plans for where you'll be racing in 2013?
My plans for 2013 are unsure as of yet. There are a few ideas in the pipeline that we are working on. I'm still considering F2 as a possibility but nothing is certain just yet. If I were to return though I would bring one hell of a fight!