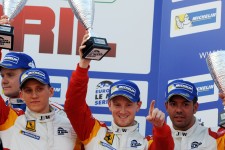 Daniel McKenzie and his JMW Motorsport team secured a fourth podium in a row in the LMGTE class of the European Le Mans Series at Estoril this weekend.
The team pushed hard in qualifying, narrowly missing out on pole by less than a tenth of a second, so started the final race of the season second on the grid.
George Richardson started the race for the team and lost a place early on but was always at the 'business end ' of the race. Richardson had a longer stint than his rivals and by the time he pitted JMW were in the lead.
During the pit stop, McKenzie jumped in and took over and came out in fourth position. McKenzie looked quick from the off and was able to move up to third position. By the halfway mark McKenzie had gained the lead, however after the next round of pit stops McKenzie was back in third position.
With just over an hour to go, McKenzie finished his stunning stint and swapped with Daniel Zampieri, who was able to see the car home in third place. This added to what has been a brilliant end to the season for the team, as they finished on the podium in the last four races.
Following the race McKenzie said, "Coming away from the weekend with another podium place and being third in the championship is a great achievement. It's been a successful year with 4 out of 5 podiums, the team have done a stunning job all season and it has been great to be part of the JMW Motorsport family.
The race was difficult with a ventilation problem in the cabin which meant it was extremely hot. Regardless we battled on and just missed out on 1st and 2nd place who were only a matter of 15 seconds in front of us after 4 hours of racing. Estoril is quite a technical circuit and I hadn't been there for nearly 6 years but enjoyed the weekend as a whole and got stuck into some hard racing over my double stint."